Leyadoll 2nd Anniversary | 2 Years Full of Love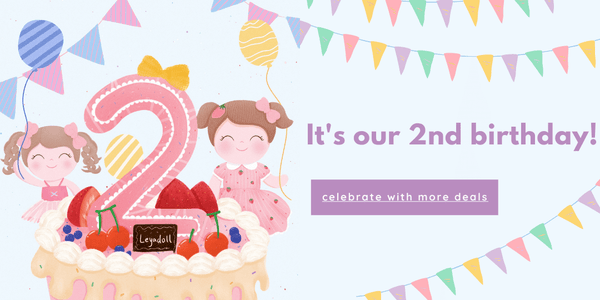 Together You Make it Better  
To our lovely friends, thank you! We simply wouldn't be celebrating this milestone without your commitment, support, and drive to make more children smile, regardless of race, gender, disability, and even ages. This anniversary is our collective success.
We wanted to celebrate the loveliest things and moments that happened at Leyadoll during 2 years of love.
1. We sold our first dark-skinned Leyadoll on 25th April, 2020.
We designed our first diverse Leyadoll on 25th April, 2020, on purpose to deliver smiles to more kids, while reminding them of how special they are. Our discovery to dolls with diversity was then endless. We designed dolls with tanned skin, dolls with black hair, also dolls for boys, and we will never stop creating dolls that represent diverse kids!
2. We launched our first Albino Leyadoll on 7th Jul, 2021.
Princess Moon Glow, or you can call her Lady Moon Glow, is designed with awareness of Albinism. Her hair and skin white as snow display the unique beauty and elegance inside her.
3. We made twinning with dollies a possible& easy thing!
We designed the beautiful doll-matching dresses for a fun dress-up-and-play experience. What a cuter thing than dressing up your little one like her favorite doll?
4. We partnered with Smile Train Charity to help change the world on 26th Sep, 2021.
Our partnership with Smile Train Charity was launched on 26th Sep this year. From every purchase you make, we will donate 1% to help children with clefts smile again!
Justin McCarthy, Senior Director of Corporate Partnerships at Smile Train, says, "Leyadoll™, like Smile Train, understands that there's nothing in the world more powerful than a child's smile. That's why we're so excited about this opportunity to work together to turn the smiles children get from their Leyadoll™ into lifesaving smiles for children in need around the world."
5. Until now, we had hit a milestone of 300,000 personalized dolls sold!  
We have been engaged in making dolls with unique names on. The Leyadoll that the busiest delivering smiles is the personalized Strawberry Girl.
6. We've collected 21,799 heartfelt reviews
We always love hearing what customers say about us, no matter telling how much they love Leyadolls, or giving us the most precious advices. 
To party with you for our birthday, we invite you to celebrate with 10%~30% off sitewide, plus a massive giveaway on Instagram.
---